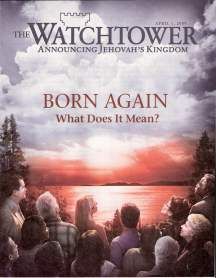 Why isn't she saluting the flag?, why isn't she singing the anthemn?, -s
he's a witness
- A witness?, like from the government?, -
no you idiot, a Jehovah's witness
-
I recall having that short conversation with a friend when i was around 9 years of age, i knew about Witnesses before i knew about atheists, a few blocks south of my house there was a Mormon temple and a Jehovah's witnesses kingdom hall. I have a troubled cousin that had drug problems who got converted to JW and she is heavily criticized by my mostly Christian family because she can't come to birthday parties because she isn't allowed to do so by her church, and by that i mean, if she's spotted by a fellow witness, she could be denounced and brought up to her church's elder to face some form of punishment, but my family doesn't understand that, because they know very little about the whole religion, so to make it easy for them, i'll show you what Witnesses actually believe...
Jehovah's Witnesses, from now on referred to as "JWs", are another Abrahamic religion, JW's are a Milenarian (christ will rule 1000 years on earth), restorationist (the religious word for fundamentalism) and non trinitarian (only one god, no holy trinity) they believe in the same god christians and muslims and jews believe, but with a very different dogma, you see, JWs are ruled by something called "The Watchtower Society", mainly formed by a set of elders or scholars from the church that release a two issues per month magazine called The Watchtower, it comes in around 182 languages and is distributed across the world free of charge thanks to generous donations. The content includes answers to FAQs by witnesses and other kinds of digested information for its members, you see, JWs are not allowed to seek for answers on TV, other books or the internet.
The Watchtower Society prohibits its members to refer to any other media or alternative scriptures for answers to important questions in life, even gain a better understanding of the Witness scriptures, this means no individual interpretation allowed. For that they have their own version of the bible called The New World Translation, TWS claims that they are the only ones qualified to correctly translate and interpret the bible, so they made their own version for their followers, and still those followers don't have the knowledge to interpret scripture, so they are banned from doing so.
Child abuse is something you don't know JWs for, thats because their church strictly prohibits going to the police or any other federal authority when it comes to domestic problems, they need to go to their church's elder and only he can see the problem solved. Any member that has religious conversations with any non JW beyond simply trying to convert them is threatened with disavowment, what's so bad about getting kicked out from this cult?, well, the church leaders have the authority to deliver hell sentences to every rejected member of the kingdom hall.
Apostasy is condemned with rejection from the kingdom of god, when earth is destroyed, apostates are prohibited from entering the new kingdom of god, sounds silly to most of us, but to a person deeply buried into the church its a very psychologically harmful burden to bear.
Other harmful beliefs include the teachings by the WTS that say anyone who isn't a JW is in some way or form controlled by the devil either knowingly or unknowingly. JWs are prohibited from donating blood or even getting blood transfusions according to holy scripture, they can't participate in birthday parties, salute the flag, sing the anthem or any other forms of adoration or joy that aren't towards GOD.
If you as a JW are the leader of a family, and you turn your back against the church, god will hold you responsible for what you have done to your family. People who celebrate christmas are under the devil's control. Efforts to make the world better or to change the world now are futile. The world outside the Witnesses is a dark and evil place controlled by Satan. Going to college is dangerous for your spiritual health.
The Watchtower is also very popular for its unfulfilled prophesies, here's an awesome list courtesy of their wiki page:
1877: Christ's kingdom would hold full sway over the earth in 1914; the Jews, as a people, would be restored to God's favour; the "saints" would be carried to heaven.
1891: 1914 would be "the farthest limit of the rule of imperfect men."
1904: "World-wide anarchy" would follow the end of the Gentile Times in 1914.
1916: World War I would terminate in Armageddon and the rapture of the "saints".
1917: In 1918, Christendom would go down as a system to oblivion and be succeeded by revolutionary governments. God would "destroy the churches wholesale and the church members by the millions." Church members would "perish by the sword of war, revolution and anarchy". The dead would lie unburied. In 1920 all earthly governments would disappear, with worldwide anarchy prevailing.
1920: Messiah's kingdom would be established in 1925 and bring worldwide peace. God would begin restoring the earth. Abraham, Isaac, Jacob and other faithful patriarchs would be resurrected to perfect human life and be made princes and rulers, the visible representatives of the New Order on earth. Those who showed themselves obedient to God would never die.
1922: The antitypical "jubilee" that would mark God's intervention in earthly affairs in 1925 would take place in "probably the fall" of that year. The chronology was described as "correct beyond a doubt", "absolutely and unqualifiedly correct", bearing "the stamp of approval of Almighty God" and "too sublime to be the result of chance or of human invention".
1924: God's restoration of the Earth would begin "shortly after" October 1, 1925. Jerusalem would be made the world's capital. Resurrected "princes" such as Abel, Noah, Moses and John The Baptist would give instructions to their subjects around the world by radio, and aeroplanes would transport people to and from Jerusalem from all parts of the globe in just "a few hours".
1938: In 1938, Armaggedon was too close for marriage or child bearing.
1941: There were only "months" remaining until Armageddon.
1942: Armageddon was "immediately before us."
1966: It would be 6000 years since man's creation in the fall of 1975 and it would be "appropriate" for Christ's thousand-year reign to begin at that time. Time was "running out, no question about that." The "immediate future" was "certain to be filled with climactic events ... within a few years at most", the final parts of Bible prophecy relating to the "last days" would undergo fulfillment as Christ's reign began.
1968: No one could say "with certainty" that the battle of Armageddon would begin in 1975, but time was "running out rapidly" with "earthshaking events" soon to take place. In March 1968 there was a "short period of time left", with "only about ninety months left before 6000 years of man's existence on earth is completed".
1969: Human existence would not last long enough for young people to grow old; the world system would end "in a few years". Young Witnesses were told not to bother pursuing tertiary education for this reason.
1974: There was just a "short time remaining before the wicked world's end" and Witnesses were commended for selling their homes and property to "finish out the rest of their days in this old system in the pioneer service".
1984: There were "many indications" that "the end" was closer than the end of the 20th century.
Why would people believe in an organization like this?, i wonder, what convinces them, how do they manage to recruit so many people worldwide when for more than a hundred years they've been demonstrably wrong on such serious claims, why do people still believe in them?.
Reading a list like that makes me realize how these religions recruit their members, most of them will have no idea about this false prophecies because they don't come in the pamphlets they give out, it's sad to see the way this abusive cult takes over people's lives, and its legal!, something has to be done, this is a dangerous, manipulative cult, its brainwashing at its finest, you can't claim its your faith, or your belief when you aren't even fully informed of your own religion's history, they are controlling the information output to their benefit, they control your life, they take over your family and even properties, they tell you who you can and can't talk to, and that, that is a cult.