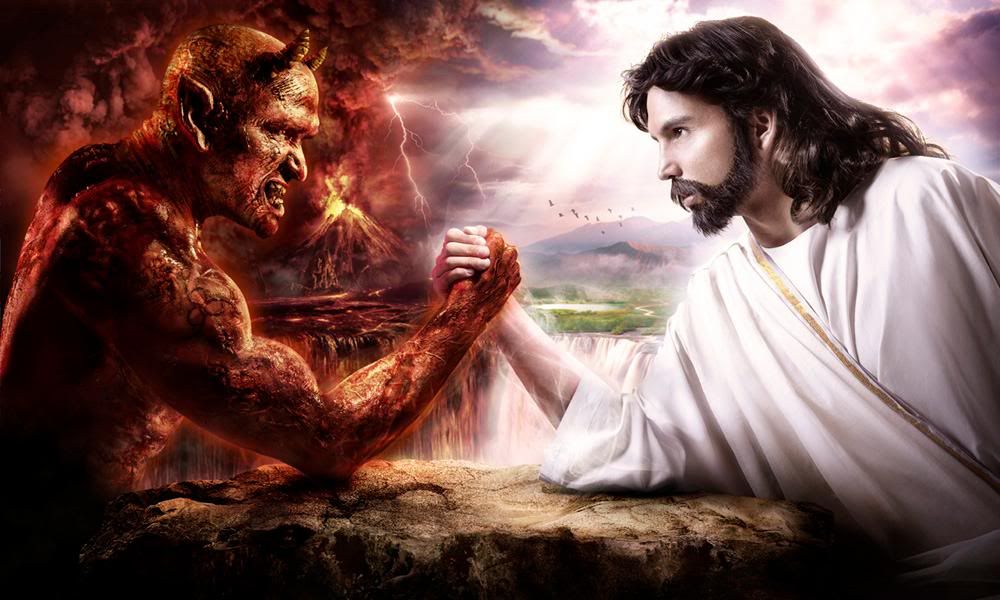 You all know the story, Satan is supposed to be the bad guy, a castaway from god's angels, even though the only reference for this story is a vague bible passage that was, when placed in context, a message for a king, it is interpreted by scholars as the story of how Lucifer was cast away from the heavens and from then on began to wage war against god's creations. So, the question is always there, if god is omnipotent, why doesn't he get rid of Satan?, and therefore gets rid of most evil in the world, if he can't do it, then he isn't omnipotent, if he doesn't want to, then he is condoning evil.
To me, the most logical explanation for this religious belief, is that Satan, is either stupid, or works for god. I'm talking about the character on the book, of course i don't believe in god or satan but i'll analyze this very important religious belief in order to expose this great big plot hole. Lets start by analyzing the text that started it all, that story that your mom told you about satan being cast away from the heavens, is an interpretation of Ezekiel 28:11.
Ezekiel 28 starts by the alleged writer, Ezekiel claiming that he had a vision, a prophesy from god against the king of tyre, its very long and redundant, god tells the king of tyre that he will die and uncircumcised death because the king of tyre is too wealthy and thinks he is as powerful as god
"Therefore this is what the Sovereign LORD says: Because you think you are wise, as wise as a god".
This has to ring a bell to you from all that time you've heard people say that Satan was cast out of heaven for thinking he was as equal to god. The fact that the chapter was meant for someone else that wasn't satan is commonly ignored by religious people.
The book of Job talks about satan coming to god and talking about Job, a righteous man, a rich man, blessed by god, satan tells god that Job only worships god because he is rich, so, as if satan was an agent for god, he kills Job's whole family and takes away all of his possessions, makes him sick, tortures the poor man, and even after all of that, Job still worships god, proving satan wrong. So satan works for god?, does he do god's dirty work?, why would god need someone to do things for him?, why would god even doubt Job?, why would a servant of god have the ability to question an omnipotent being?.
Even worse, common belief is that satan lives in hell surrounded by demons that punish every soul that wasn't allowed into heaven when they died, they punish all kinds of sinners, hell is religion's biggest selling card, fear. But, why would god allow such a place to exist?, why would he allow his creations to be tempted and then punished for all eternity?. In my opinion, the only reasonable answer is that in order for the whole hell story not to crumble, religious folk have to admit that satan works for god, god doesn't like someone, he casts his soul to hell and satan pokes their spirity ass for all eternity.
If satan doesn't work for god and is indeed an agent of evil who plans on waging war against god, why does he torture evil people?, wouldn't they be natural allies against a common enemy?, name and army that has an almost infinite amount of recruits, pouring by the millions every day and instead of training them and gearing them up, they torture them during an eternity for measly human acts that wouldn't even be considered crimes by human standards.
In order for this whole satan business to keep standing we have to admit god and satan are partners, they work together, they drink tea every thursday and if that is the case, then a god who willingly punishes human behavior with something as extreme and radical like eternal torture, is a malevolent god and someone who does not deserve to be worshiped in any way form or kind. If satan doesn't work for god and he willingly punishes every human that didn't do as god said in life, then if i was one of his minions i would be planning a coup d'etat by now.
Hopefully this showed you the sand castle weakness of some fundamental religious beliefs, taking scripture a bit serious and scrutinizing it like this is a very good example of why i'm an atheist, its stuff so weak that the most simple analysis and child-like questions completely brings it down and dismantles it.