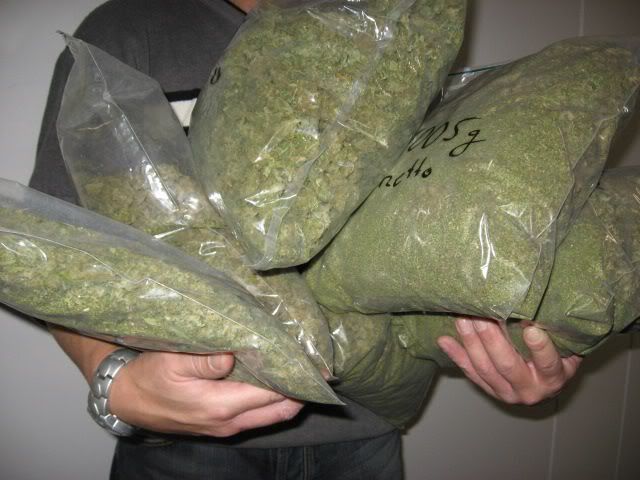 On my last entry i wrote about the influence of the United States over the ongoing Mexican war on drugs. Mexico is the US's primary drug supplier, heroin, cocaine, marijuana and methamphetamines, but not all of those drugs are made in Mexico. Today we'll take a look at how Mexico is hopelessly fighting for a lost cause, how the US government is indirectly causing bloodshed on Mexican streets, and how Mexican authorities use Marijuana as a scapegoat to give out the international impression that their anti-drug efforts are working...
Satan's flower.
Before we can talk about an illegal substance like marijuana, we have to first know why a natural plant that grows on the ground was made illegal while cabbage is free to run amuck. Marijuana has been used since 7000 B.C, and it was made illegal during the Reagan administration. Marijuana has had different uses thought history, at one point 90% of the worlds ships were made out of hemp, the word canvas comes from the latin cannapaceus (made of hemp), but it wasn't until the early 1900's that cannabis was used for recreational purposes. When Mexican immigrants came to america after the 1910 Mexican revolution, they were hired as cheap laborers on local farms, the Mexicans brought marijuana with them, farms that didn't hire Mexicans pushed for a ban on "preparations of hemp" or "loco weed".
During this time, the United States was also dealing with alcohol prohibition, which lasted from 1919 to 1933.  Alcohol prohibition was extremely visible and debated at all levels, while drug laws were passed without the general public's knowledge. National alcohol prohibition happened through the mechanism of an amendment to the constitution.
In the eastern states, the problem was attributed to a combination of Latin Americans and black jazz musicians. Marijuana and jazz traveled from New Orleans to Chicago, and then to Harlem, where marijuana became an indispensable part of the music scene. Once again, good old racism played a big part on outlawing cannabis, newspapers at the time made statements such as: 
"Marihuana influences Negroes to look at white people in the eye, step on white men's shadows and look at a white woman twice.".
 The San Fransico Examiner wrote: 
"Marihuana makes fiends of boys in thirty days — Hashish goads users to bloodlust. "By the tons it is coming into this country — the deadly, dreadful poison that racks and tears not only the body, but the very heart and soul of every human being who once becomes a slave to it in any of its cruel and devastating forms…. Marihuana is a short cut to the insane asylum. Smoke marihuana cigarettes for a month and what was once your brain will be nothing but a storehouse of horrid specters. Hasheesh makes a murderer who kills for the love of killing out of the mildest mannered man who ever laughed at the idea that any habit could ever get him…."
Two other fear-tactic rumors started to spread: one, that Mexicans, Blacks and other foreigners were snaring white children with marijuana; and two, the story of the "assassins." Early stories of Marco Polo had told of "hasheesh-eaters" or hashashin, from which derived the term "assassin." In the original stories, these professional killers were given large doses of hashish and brought to the ruler's garden (to give them a glimpse of the paradise that awaited them upon successful completion of their mission). Then, after the effects of the drug disappeared, the assassin would fulfill his ruler's wishes with cool, calculating loyalty.