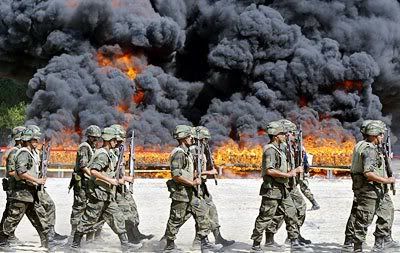 For the last couple of months i've invested my time on doing a bit of research about the ongoing war on drugs that has cost Mexico the incredible number of 35 thousand deaths in the last 4 years, it seems to me that 35000 dead citizens is a painfully high price to pay for keeping drugs out of the streets, and with a number that high, the war better be working, sadly, it isn't, the war on drugs was lost before it started, the table is tilted, greed, addiction, intimidation and corruption prove to be an overpowered enemy of this otherwise noble cause, and on this series of blog entries, i will try my best to show you why Mexico is fighting an unfair battle.
Like a Candy Shop
The United States of America is pound for pound the undisputed biggest drug consumer in the world, and that doesn't include alcohol, tobacco and prescription drugs, the reason behind this is probably because its one of the largest countries in the world, most of its drugs come from Mexico and there are consumers there, but the US has almost two times the population of Mexico, the ammount of drugs consumed on both countries is unknown, but its estimated that drug cartels make billions of dollars a year from illegal drug trade. Forbes estimates Joaquin Guzman Loera, the biggest drug lord in mexico, to have a personal wealth of over 1 billion dollars. According to the CIA World Factbook, the United States is the "
world's largest consumer of cocaine...Colombian heroin, and Mexican heroin and marijuana; major consumer of ecstasy and Mexican methamphetamine; minor consumer of high-quality Southeast Asian heroin; illicit producer of cannabis, marijuana, depressants, stimulants, hallucinogens, and methamphetamine; money-laundering cente
r".
This of course became a top priority for the american government, most of its drugs, if not all of them are smuggled from the mexican border, so the best solution back in 2006 was to politically pressure mexican president Felipe Calderon into taking strong actions against the mexican drug cartels that for many years had become part of Mexico's social and political structure. Calderon's undeclared war against the cartels triggered the biggest violence wave and blood bath in the country since it's civil war in 1910. Much like the ruthless drug war in Colombia during the late 80's and early 90's, mexican streets became a shooting range for police, soldiers and drug cartel henchmen, every corner of their society has been affected, civilians, clergy men and politicians have all been killed during this ongoing struggle.
Official numbers estimate that around one thousand minors have been killed because of gunfights, over 15 deaths have been caused by mexican soldiers that have shot civilians that didn't stop on different checkpoints on the country's roads, including one american citizen named Joseph Proctor who in August of 2010 was not only murdered by mexican soldiers but they also planted an AR-15 rifle on his hands and claimed that Proctor had attacked them first, it took 6 months for the united states to pressure mexican government who finally in December 2010 arrested 5 soldiers, Proctor's case was the third that year that accused soldiers of killing innocent civilians and planting evidence on their bodies.
Of course by having mexico fight off the drug traffickers, the united states keeps this kind of violence and corruption off their streets while at the same time it looks good by giving funds to mexican government so they can continue fighting the cartels. in 2008 American congress approved 1.3 billion dollars of anti-drug aid for Mexico, so it all seems like a win-win situation, except for the average people, friends and family of the 35 thousand (number reported by mexican government) victims that the undeclared war has left on its path, it is also worth mentioning that as cartels grow bigger and bigger, they resort to new ways of profiting in order to pay the salaries of newcomers without taking a big hit on their old way of life.
In 2002 mexico reported 53 cases of extortion to average business men, by 2008 the number exploded to a shocking 50 thousand reported extortions, drug cartels are intimidating not only businesses but also public schools into paying them a monthly "protection" fee, on December of 2010 a kindergarten in Ciudad Juarez was set on fire because their administration failed to cover the monthly fee the cartel demanded, a month earlier they had left a note on the door of a high school warning them of what would happen if they didn't pay up.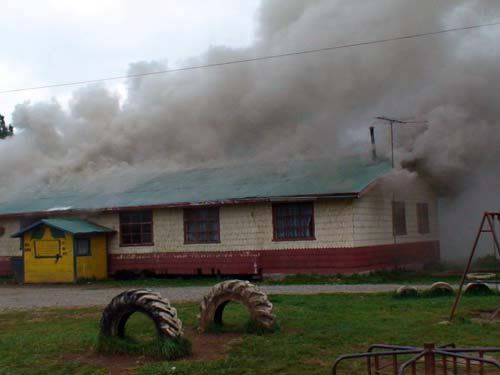 For all their efforts, Mexico has failed to stop any drug cartels, let alone drug trafficking, violence is on an all time high while America is on an endless drug binge. But we've all seen the news, every couple of weeks mexico catches a high profile drug lord, and busts a couple of tons of marijuana, that should mean something, if they keep confiscating tons and tons of marijuana per month, drug cartels will run out of money, but that's not the case, instead of suffering for the loss of their leaders, and endless amounts of marijuana, the cartels seem stronger every day.
Tomorrow i'll talk about the reasons why marijuana is illegal, why the insanely large marijuana busts done by mexico mean very little to the cartels, why mexicans look at the cartels as a viable job opportunity and why mexican media controls the information its people gets to promote their government instead of doing objective journalism.