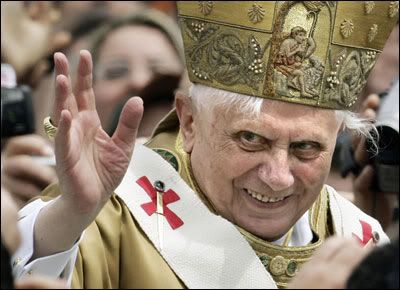 Thanks to the fantastic response on my last column titled
Why Do You Care?
, tomorrow i'll be writing something about Agnosticism, my views on it, and why i think it's not the right posture to take on this subject. Today i'm gonna leave you with a couple of news that i thought were interesting.
Italian authorities seized euro23 million ($30 million) from a Vatican bank account Tuesday and said they have begun investigating top officials of the Vatican bank in connection with a money-laundering probe
. Yes people, the vatican might be involved in money laundering, so now our good friend
Pope Ratzinger
not only has to deal with pedophile priests and nazi atheists but now mobster activities inside the church, is the catholic church really going down?, are we close to seeing the end of Catholicism?.
Mother Earth could have parted the Red Sea, hatching the great escape described in the biblical book of Exodus, a new study finds.
Carl Drews of the National Center for Atmospheric Research made a study that shows strong winds could easily make the effect that the sea is being parted, of course the study does not pretend to show the bible is true, it shows how it could have happened, it's not saying that it did happen at all, there's absolutely zero evidence for that, no archeological evidence, nothing, already i've seen a couple of article titles that say "SCIENCE PROVES BIBLICAL MIRACLE".
To wrap this thing up, i'll leave you with an awesome video that i just saw last night, it's funny, it's well done, it gets the point across, enjoy it and be sure to come back tomorrow for the article about Agnosticism.