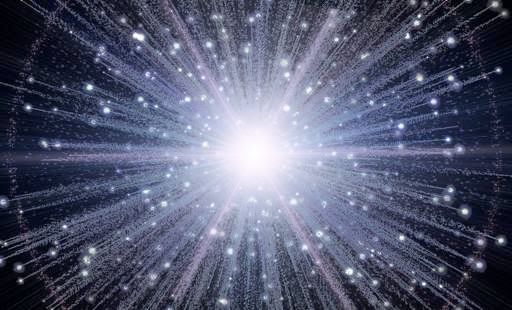 As i watched Stephen Hawking's
interview on Larry King Live
i couldn't help it but to nod my head in disapproval not only at the fact that Deepak Chopra was being taken seriously, but mostly because i was watching a man, a catholic priest, saying that it was silly to believe something could've been created out of nothing, but at the same time, holding the belief that an omnipotent god could've come out of nothing.
The proposition that something came out of nothing isn't as crazy or stupid as it sounds,
if you think about it, in order for anything to exist, at some point, it had to come out of nothing, if it came from something else, then the eternal question would be, where did that come from? and so on. At one point, there had to be nothing,
What to me really is a bit crazy or out of proportion is that, out of that nothingness, the first thing
ever created was an omnipotent being, just because some humans feel their complex noises or silly drawings
are too wonderful to have come out of nothing.
And all that stuff about people having the need to "fulfill" their life with a magical entity is plain bullshit, people don't need that, i surely don't, i don't enjoy paintings, or classic music, i'm not impressed by big trees or mountains, i hate camping, but i love architecture and i love the way computers are built, i love how big cities are arranged, and i'm very grateful about electricity, antiseptics and drinking water, just because i have different tastes doesn't mean i have a hole in my life or that i need Jesus to better appreciate my existence.
When the priest was talking about living a fulfilling life and enjoying all the wonders in it,
i almost forgot about the collar he was wearing on his neck, a symbol of the exact opposite of what he is preaching,
a symbol that represents that he doesn't have control over his own life, that an organization has brain washed him to the point that he can't even shake his dong more that twice when he pees before having to flagellate himself in punishment.
I'm not gonna pretend i know how the universe started, but what i do know is that it wasn't created by saying some magical words, it wasn't instantaneous, it took billions of years, the thing is still expanding to this day, we don't see god anywhere, he isn't out there creating and destroying planets, he isn't out there expanding the universe. Basically, the religious believe that god just flicked the first piece of the domino line and everything just took care of itself, when science discovered evolution, the religious took that ball and ran with it saying that it was god's way of doing things, when humans discovered the way the universe began, religious folk just said that it was god's way of doing things.
They can't picture the universe being created by anything that isn't an almighty humanoid, their argument is so fragile, that every time the origin o the universe is discussed, they will not bring up the human deity of the bible, they will just argue the possibility of some "designer" or "creator" as if they were ashamed of the Abrahamic god because of his obvious primitive description.
Something had to come out of nothing, or else we would be stuck with a very stupid, very silly infinite question, but that something, also has to be a very basic, very small, very simple thing that developed slowly, something that you can explain, that you can test, something you can work with, it would be silly to ask "why?", its just there, just like mountains are there, we know how they form, but we don't really know whats their purpose, they don't have one, they just are.
If god came out of nothing, it doesn't stop there, you would now have to know, how and or why would the only omnipotent being in existence would just sprout out of nothing, you would have to wonder, if a god came out of nothing, couldn't many other gods have come out of nothing too?, why don't we have a universe filled with gods waging an intergalactic fight for power?. If a god created us, we would now need to know what he's made of, how does he get his powers?, where does he live?, does he need to eat?. The religious explanation for the creation of the world simply isn't interested in explaining anything, all they want is comfort, false hope, they have the arrogant need of believing they are special in some way and that god created the universe just for us.
Science
We are not that special, of course we do great things, and we appreciate them as human beings, but in the big picture it might not be all that great, think of every wonder that we do as part of human culture, and compare it with national culture, most nations believe their culture and history is the greatest, and think less of the history and culture of the other nations, i believe that just like that, somewhere out there in the vastness of space, there's some form of civilization that will think our achievements aren't that great.