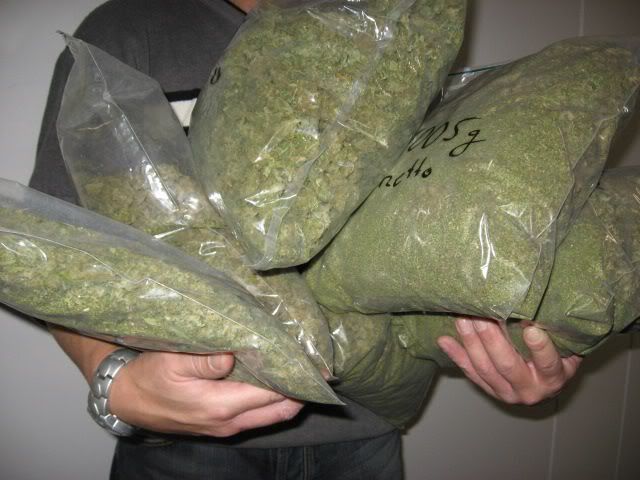 On my last entry i wrote about the influence of the United States over the ongoing Mexican war on drugs. Mexico is the US's primary drug supplier, heroin, cocaine, marijuana and methamphetamines, but not all of those drugs are made in Mexico. Today we'll take a look at how Mexico is hopelessly fighting for a lost cause, how the US government is indirectly causing bloodshed on Mexican streets, and how Mexican authorities use Marijuana as a scapegoat to give out the international impression that their anti-drug efforts are working...
Satan's flower.
Before we can talk about an illegal substance like marijuana, we have to first know why a natural plant that grows on the ground was made illegal while cabbage is free to run amuck. Marijuana has been used since 7000 B.C, and it was made illegal during the Reagan administration. Marijuana has had different uses thought history, at one point 90% of the worlds ships were made out of hemp, the word canvas comes from the latin cannapaceus (made of hemp), but it wasn't until the early 1900's that cannabis was used for recreational purposes. When Mexican immigrants came to america after the 1910 Mexican revolution, they were hired as cheap laborers on local farms, the Mexicans brought marijuana with them, farms that didn't hire Mexicans pushed for a ban on "preparations of hemp" or "loco weed".
During this time, the United States was also dealing with alcohol prohibition, which lasted from 1919 to 1933. Alcohol prohibition was extremely visible and debated at all levels, while drug laws were passed without the general public's knowledge. National alcohol prohibition happened through the mechanism of an amendment to the constitution.
In the eastern states, the problem was attributed to a combination of Latin Americans and black jazz musicians. Marijuana and jazz traveled from New Orleans to Chicago, and then to Harlem, where marijuana became an indispensable part of the music scene. Once again, good old racism played a big part on outlawing cannabis, newspapers at the time made statements such as:
"Marihuana influences Negroes to look at white people in the eye, step on white men's shadows and look at a white woman twice.".
The San Fransico Examiner wrote:
"Marihuana makes fiends of boys in thirty days — Hashish goads users to bloodlust. "By the tons it is coming into this country — the deadly, dreadful poison that racks and tears not only the body, but the very heart and soul of every human being who once becomes a slave to it in any of its cruel and devastating forms…. Marihuana is a short cut to the insane asylum. Smoke marihuana cigarettes for a month and what was once your brain will be nothing but a storehouse of horrid specters. Hasheesh makes a murderer who kills for the love of killing out of the mildest mannered man who ever laughed at the idea that any habit could ever get him…."
Two other fear-tactic rumors started to spread: one, that Mexicans, Blacks and other foreigners were snaring white children with marijuana; and two, the story of the "assassins." Early stories of Marco Polo had told of "hasheesh-eaters" or hashashin, from which derived the term "assassin." In the original stories, these professional killers were given large doses of hashish and brought to the ruler's garden (to give them a glimpse of the paradise that awaited them upon successful completion of their mission). Then, after the effects of the drug disappeared, the assassin would fulfill his ruler's wishes with cool, calculating loyalty.
Tons of Brick Weed
Undoubtedly, Mexico's biggest hits against the drug cartels are their marijuana busts, recently 100 tons of packaged marijuana were confiscated in Tijuana, one of the largest drug busts in history, not a week goes by without the Mexican army confiscating a couple hundred kilos of the herb, and every time something like that happens, its constantly mentioned all over the news as progress on the war efforts, But, is marijuana really the primary source of income on the cartels?, i believe its not as big as the government tells us it is.
Woohoo!
According to the Mexican secretary of national defense, since December 2010 to this day, Mexican army confiscated a staggering 50 tons of marijuana and 577 pounds of cocaine, here's where it gets a little odd, during those same 3 months they only managed to confiscate 2 pounds of methamphetamines and 83 pounds of heroin. That report is what inspired me to write this, i seriously believe something is wrong here, you see, if you know a little bit about marihuana, and you've tried it yourself, you would then know that mexican marihuana is the worst kind of marihuana you can get, its packaged like a brick, as its pictured above, the plant dries up on the road to the united states and loses most of the THC crystals, the chemical that makes marihuana have the desired effects.
On some states in America you can find "brick weed" (mexican marihuana) as cheap as 20 dollars per ounce, high quality marihuana, the one that is used for medical purposes or is actually harvested in the united states or in canada can go for up to 40 dollars an ounce. It's production is of a very high quality compared to the mexican product, in mexico farmers use very old techniques and are running on a tight schedule, so they often package the plant with seeds and stems, i'm not saying nobody in the US buys mexican marihuana, i'm sure it's a good business, but its not quite the business the media tells us it is.
Fighting for Freedom...and poppy fields.
Heroin is the biggest drug on the market, its a very powerful drug that literally enslaves its user, you become a slave to the drug, heroin is no joke, many people have died from heroin overdoses, not only that, but a legal version of heroin is a pharmaceutical drug called Oxycontin, a prescription painkiller made by Purdue Pharma. By 2001 OxyContin was the best-selling non-generic narcotic pain reliever in the US, in 2008 sales totaled 2.5 billion, the DEA found that retail sales of OxyContin "jumped nearly six-fold between 97 and 2005". In the US alone over 300 people have died from OxyContin overdoses in the past 2 years.
OxyContin is highly addictive and very expensive, therefore, a cheap alternative is heroin, on some states a single pill of OxyContin goes for 50 dollars, meanwhile a heroin balloon goes for 15 to 20 dollars, an OxyContin addict needs around 4-6 pills per day, so every day, more and more people turn to heroin. In the US captured drug dealers have confessed to stand around outside rehabilitation centers offering free heroin to former addicts so they can get them hooked again as a way of preventing the loss of a client. Last October in Tijuana, Mexico, a hit squad broke into a rehabilitation center and killed 13 patients, none of them were in there for marijuana addiction.
The endless supply of heroin comes into the united states via the Mexican border, but mexico has few, if any poppy fields, 95% of the world's heroin is born in Afghanistan, under US surveillance. During the Taliban's rule over Afghanistan, Taliban leader Mohammed Omar, collaborating with the UN, eradicated heroin production in Afghanistan by declaring that growing poppies was un-Islamic, resulting in one of the world's most successful anti-drug campaigns, because of this, opium poppy cultivation was reduced by 91%. After the American invasion, Afghanistan quickly became the world's primary opium supplier earning estimates of 64 billion dollars that are shared among farmers, district officials, insurgents, warlords and drug traffickers.
In 2010 Russia accused the United States of supporting the opium production and therefore contributing to Russia's heroin addiction epidemic that claims 30 thousand lies each year, in 2009 Russia reported half a million heroin addicts. Meanwhile, US forces cooperate with Afghan warlords that control the opium trade, but are also highly useful to the US forces in scouting, providing local intelligence and keeping their territories clean of the Taliban.
All of this tells me that heroin, along with methamphetamines are the primary source of income for the Mexican drug cartels, just imagine what would happen if marijuana was legalized, and instead of the world relying on OxyContin, heroin or aspirin for pain relievers, they simply used cannabis. How would the Mexican government look if marijuana was legalized and the secretary of national defense reported that every 3 months they only manage to seize 500 pounds of cocaine, 2 pounds of methamphetamines and 80 pounds of heroin?. Think about that one, and you'll know exactly why marijuana is still and will continue to be an illegal drug. It doesn't matter if tomorrow someone finds out that marijuana cures aids and cancer, it will keep being illegal because its the perfect scapegoat for the biggest crimes humanity has never even heard of.